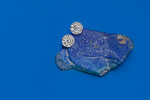 Mineral: the molding and wax sculpting process behind our newest fine jewelry collection
We're often asked about how a piece of jewellery or a collection came to be. Where does the inspiration come from and what does the process look like? We thought we would share with you some behind the scenes images and descriptions of one of our most recent collections: Mineral.
If we had to explain our process in one sentence this is what we would say: the Atelier LAF Mineral Jewellery Collection is the result of sculptural explorations involving experimentation with mineral textures and carefully thought out proportions applied to classic jewellery shapes such as rings, medallions and discs. So what exactly does this mean? How did our experimentation result in jewellery?

We should start by saying that we're collectors of discarded objects, anything that catches our eye and doesn't take up too much room! Some of these objects are rocks discarded by our neighbouring gem club. They actually just throw them out the door. So once in a while, we just take a walk and pick up whatever catches our eye. In this case, one of the outcasts caught Andrew's eye because of its unique crystal texture. Here's a little step by step recap of the ensuing process:
We molded the rock's texture with a two-part molding compound:
  We then poured some hot, melted injection wax into the mold. We poured a couple of copies so that we could experiment with them by cutting them up and piecing them back together. The result is a seemingly random yet organized pattern. (see image below)
 Once we had the texture effect that we felt was right,  we then applied it to classic jewellery shapes that would highlight the visual interest of the surface pattern without overpowering it. 
Some of the pieces have been accented with bead set blue sapphires which complement the topography of the texture. Round pearls have also been added to the band for a contrasting timeless and elegant effect. The image below shows a wax prototype to review placement and proportions for the application of the stones and pearl.
 And voilà! Of course, there are many more steps involved in the making of the master models and the jewellery itself but we hope this article has given you an insight into the behind the scenes magic of how we came up with the texture and shapes of the Mineral collection.
 Click HERE if you would like to view the complete Mineral Collection.