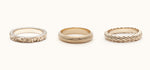 Texture: some classic shapes with visual interest
Textured bands are a great choice if you're attracted to a classic ring shape but are looking for a piece with a unique quality. They look great solo, stacked and as a wedding band or self-appreciation ring.
We've developed some of our most beloved textures through artistic exploration with rope, wax, hammers, files and crystals (just to name a few.) Most of our rings can be custom sized so if you need a bigger ring size or a smaller ring size just send us a message and we would be happy to help out!